The Betterment Project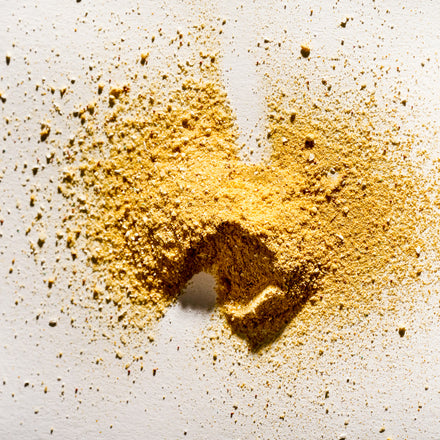 Turmeric's Benefits For Joint Health & Anti-Inflammation
By Dan Stahl
Turmeric is an ingredient found in curries, soups, mustard, and the golden milk lattes you see all over Instagram. But what is turmeric, exactly? And what are the turmeric supplement benefits you need to know about?
The short answer: turmeric is a powerful plant with various health-promoting properties. Turmeric is in the same family as ginger, which you might guess at first glance. Both have ridged brown stems extending like knobby fingers, but cut them open, and the difference is dramatic. Ginger's whitish-yellow pales next to turmeric's golden orange. If you've seen curry powder, then you know the hue we're talkin' about.
Turmeric is also a popular supplement, and here at ASYSTEM, we're huge fans of Turmacin®, a water-soluble derivative of turmeric and the pure/potent ingredient in our new Radical Relief line. Turmacin® makes the most of the anti-inflammatory and the joint-health-promoting properties of turmeric for max recovery after a tough workout. Clinical research shows that it reduce inflammation & pain, and it's both natural and easy for the body to absorb. Win-win.
More generally speaking, "turmeric is touted for its strong anti-inflammatory and antioxidant properties," says Stephanie Middleberg, registered dietitian and founder of the New York City health and wellness practice Middleberg Nutrition. That's why people tap into turmeric supplements for everything from muscle soreness to anxiety…
The Health Benefits of Turmeric
How to Add Turmeric to Your Routine
Well, ASYSTEM's Radical Relief Anti-Inflammatory Pills have your recovery covered with the optimal dose of Turmacin®. Take twice a day to reduce inflammation and joint pain and improve the mobility of your joints.
Turmeric is incredibly easy to cook with, too; just make sure to include an absorption-enhancing ingredient in your recipe. Combined with black pepper, absorption of the good stuff increases by 2,000 percent, Middleberg says. Fat also facilitates absorption, so use olive oil if you're cooking or enjoy one of those golden milk lattes with coconut oil or full-fat milk. Cheers.