The Betterment Project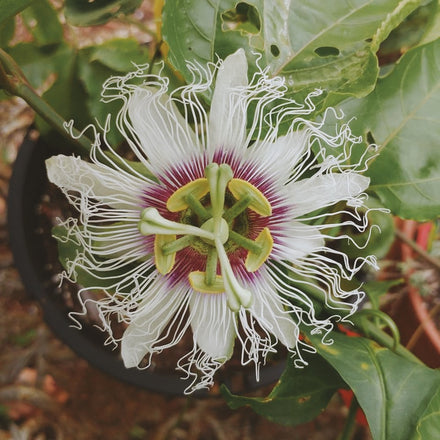 Using Passionflower Tea for Sleep, Anxiety, and Stress Relief
If you are stressed, you may become restless and find it difficult to catch some slumber. Lack of sleep, in turn, may cause or worsen stress and anxiety. 

Pharmacological aids can help, but they may have side effects or are not suitable for everyone. Or many prefer natural or non-pharmacological aids because of their safety profile. In either case, passionflower tea can be the option you are looking for.

Passionflower

Passionflower is native to South America and the Southern United States. The variety Passiflora incarnata is commonly used for medicinal purposes.

This flower may boost levels of gamma-aminobutyric acid (GABA), a chemical responsible for mood regulation. It counters the action of chemicals that cause excitement, promoting a calm and relaxed state.

Nutrient content of passionflower:
Calorie: 41–53 kcal/100 g

Vitamins A, B1, B2, and C

Phosphorus

Calcium

Iron

Phytochemicals
Flavonoids such as luteolin, kaempferol, apigenin, and quercetin

Flavonoid glycosides such as isovitexin, isoorientin, vitexin, and orientin

Benefits

Anxiety, stress, and sleep disorders are among the most common health problems in the United States. These problems can affect you both physically and mentally. They may also increase the risk of other disorders such as cardiovascular issues and hypertension.

Thankfully, the symptoms of sleep problems, anxiety, and stress can be reduced. Various natural options are also available to help you manage them, including passionflower.

The use of passionflower dates back thousands of years because of its health benefits. Let's have a look at a few of them and their scientific evidence.

Sleep

Many studies have analyzed the effect of passionflower on sleep. A 2017 study proposes a positive impact of the flower on sleeping patterns. 

Animal studies show reduced eye movement sleep and slow-wave sleep, helping them to fall asleep quickly. Another research also indicates an increase in sleep duration and lesser time to hit the hay.

Anxiety

There is enough evidence to support the benefits of P. incarnata for anxiety. Many studies have shown its calming and relaxing properties.

A 2016 study suggests a decrease in anxiety and better memory in rats after administration of passionflower. Experts believe this effect may be due to its effect on GABA levels, a chemical that relaxes you. They believe that passionflower can be used as an add-on to conventional anxiety treatment.

In a trial in phytotherapy research, participants who drank a daily dose of passionflower tea for seven days reported better quality sleep. It may also help with sleep irregularities.

Another research in anesthesia and analgesia hints at its effectiveness for restlessness. Patients on passionflower reported less anxiety as compared to those on a placebo.

Researchers believe that taking 500 mg/day of passionflower may reduce anxiety before surgery. However, the sample for this study was small and may need to be studied on a larger group to confirm the effects.

Stress

While some amount of stress is good for health, long-standing stress has a harmful effect on your body. Stress activates the sympathetic–adrenomedullary axis and adrenergic system along with the hypothalamic–pituitary–adrenal axis.

Passiflora incarnata is classified as an adaptogen in Ayurveda, which means a substance helping to relieve stress. Animal studies propose that long-term use of this flower may reduce stress, improve motor activity, and increase motivation to act. It may also have a beneficial effect on your memory.

Complete Calm De-Stress Gummies is another option that aids in combating restlessness and offering stress relief. With multiple adaptogens as its ingredients, it helps in keeping anxiety at bay.

How To Use Passionflower

There are many ways of taking passionflower. The quantity mentioned is not the dose but just a reference guideline.
Tea:

Tea brewed using 4-8 grams of dried herb.

Infusion:

2.5 grams about three to four times a day.

Tincture:

10 to 60 drops three times a day.

Liquid extract:

10 to 30 drops, three times a day.

Passion Flower Supplements

The usual dose of passionflower supplement is 400 mg twice daily for two to eight weeks.

Always read the patient instruction leaflet before taking the supplement. It is best to consult your physician before taking the supplement, especially if you have any health condition or are on some medicines. Before taking any supplements, please consult with your health care provider first. 

Recipe for Passion Flower Tea

Here are some ingredients that you may need to prepare passion flower tea:
A tea bag or 2 grams of dried passion flower

Honey

One cup of hot water

Steep passion flower for six to eight minutes in hot water. For a stronger tea, steep for 10-15 minutes. Take the teabag out or strain the water. You can add a dash of honey for a sweetish taste.

You can consume this tea every night for seven days to see its effect.

Side Effects

Passionflower tea and supplements are relatively safe. However, it may cause the mentioned side effects:
Dizziness

Drowsiness

Confusion

Increased heartbeat

Nausea and/or vomiting

Loss of coordination

Impaired cognitive function
Interactions With Medications

Some medicines that may interact with passionflower supplements are benzodiazepines, narcotics, antihistamines, and barbiturates. 

Always take the supplement with caution if you are on medication or blood thinners. Herbal remedies that may interfere with its action are valerian root and kava. Lastly, caffeine, alcohol, and aspirin may not mix well with passionflower, and thus their use should be avoided.

Final Thoughts

Passionflower is an ancient herb with multiple health benefits. Various studies have been undertaken to understand its benefits, especially for sleep, stress, and anxiety.

Many studies have proven this effect, but it is recommended to use passionflower as an adjunct and not as a replacement for conventional treatment.

All in all, you can use passionflower tea or supplements for the mentioned problems, but speak to your doctor before doing so.

Take charge of your health. Poor sleep, anxiety, and stress don't have to rule your life. If you don't prefer tea, you can try Complete Calm System that contains passion flower extract, and other scientifically proven ingredients that aid in improving sleep quality and relieve stress. 
Sources:
Preoperative oral Passiflora incarnata reduces anxiety in ambulatory surgery patients | NCBI 
Effects of Passiflora incarnata (passionflower) herbal tea on subjective sleep quality | NCBI 
Role Identification of Passiflora Incarnata Linnaeus | NCBI
Passiflora incarnata L. (Passionflower) extracts elicit GABA | NCBI
Passionflower Extract Induces High-amplitude Rhythms without Phase Shifts in the Expression of Several Circadian Clock Genes in Vitro and in Vivo | NCBI