{ $el.parentNode.style.height = $el.firstElementChild.offsetHeight + 'px'; }" >

An all-natural daily solution | NOW $5 OFF

LEARN MORE
Female Libido Gummies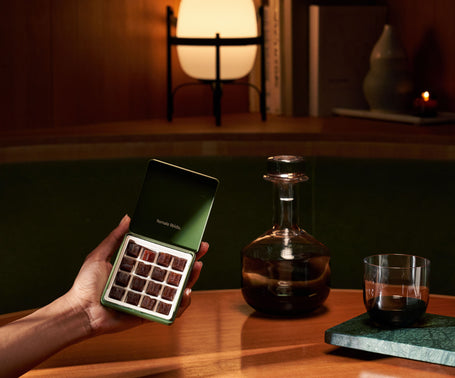 A scientifically-backed blend to increase blood flow, alleviate stress and help with stimulation
LEARN MORE
Read More About Ingredients
4.96/5 Stars (1527+ Reviews)
"As the most advanced libido gummy on the market, this ASYSTEM product really delivers helping increase blood flow making it easier to become aroused, not only that but they tastes amazing too" - US Weekly
Why Advanced Libido Gummies?
Backed by Clinical Studies
All Natural Solution
7 Plant-Based Ingredients

Boosts NO2 by 230%
Female Libido Gummies
Helps With
DESIRE
Stimulation
Hormone balance
WELL BEING
Read More About Ingredients
4.96/5 Stars (1527+ Reviews)
A month pack of our advanced libido gummies that mixes powerful adaptogens and proven clinical ingredients keep your body functioning at it's peak
Award-winning, Patented Ingredients
Proven Clinical Results
Boost NO2 by 230%
Delicious Passion Fruit Flavor
Guaranteed to Sell Out
$45 $40 + FREE SHIPPING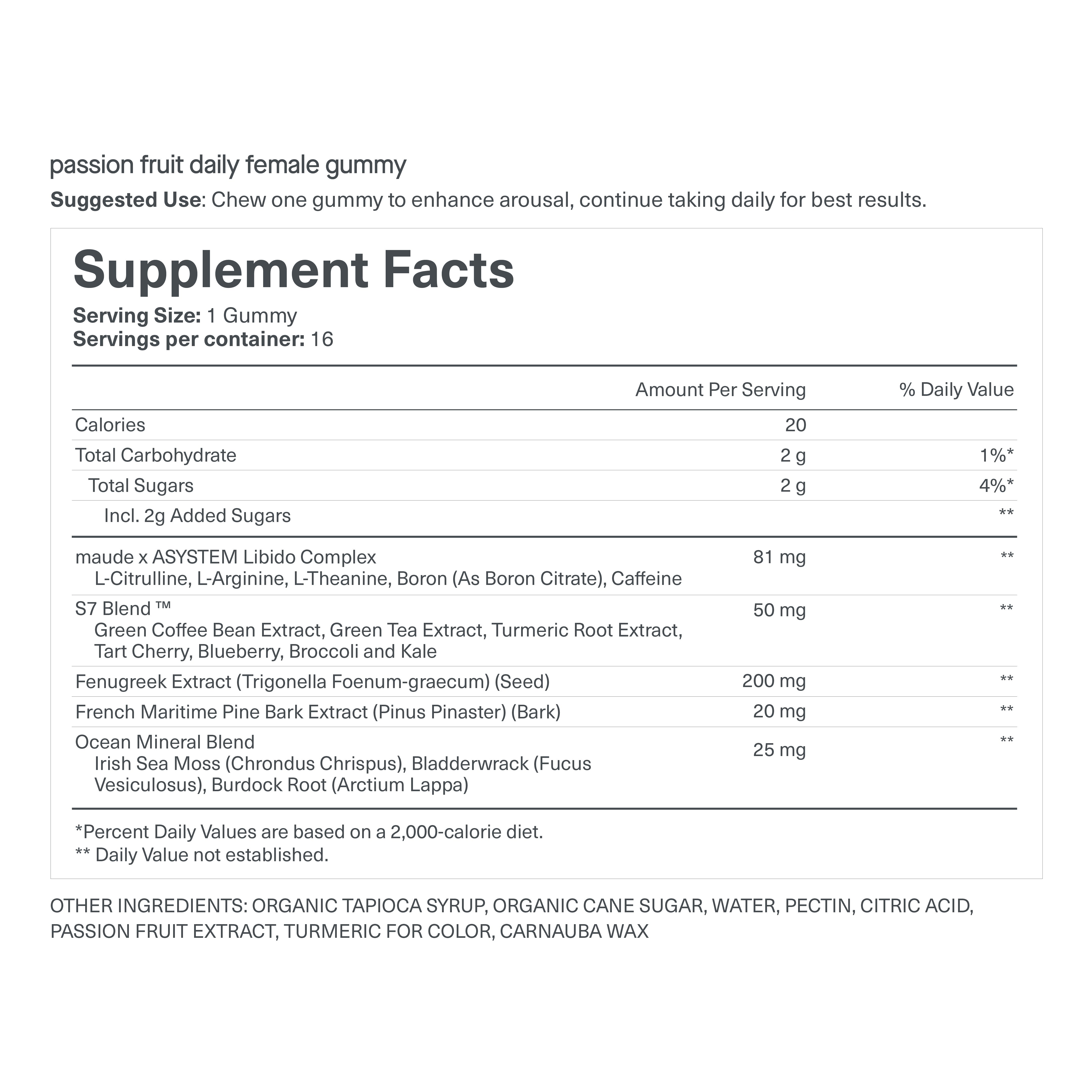 Key ingredients:
S7®
,
Fenugreek Extract
,
French Maritime Pine Bark Extract
,
maude x ASYSTEM Libido Complex
,
Boron Citrate
,
Ocean Mineral Blend
X
S7®
S7® is a low-dose blend of seven plant-based ingredients that has been clinically shown to increase nitric oxide by 230%, which acts as a vasodilator— increasing blood flow and delivering more oxygen, fuel, and other key nutrients to muscles.
X
Fenugreek Extract
Fenugreek – a popular kitchen spice and medicinal adaptogenic herb - has been shown by numerous studies to have 'significant beneficial effects to sexual problems in women' and 'promote a significant impact on libido and vitality among young women' by reducing issues like vaginal dryness. Fenugreek contains bioactive compounds called saponins that are likely involved in the production of a number of sex hormones, including estrogens and androgens. 
X
French Maritime Pine Bark Extract
Rich in nutrients that are anti-inflammatory and antioxidants, French Maritime Pine Bark has been shown by multiple studies to help enhance physical arousal in women. Researchers have found that when strategically combined with other naturally derived ingredients (such as the amino acids L-Arginine and L-Citrulline),  it produces even better results, increasing blood flow to the vaginal area, making it easier for sexually active women to become physically aroused and experience orgasm
X
maude x ASYSTEM Libido Complex
A proprietary blend of ingredients to increase blood flow, spark energy and boost testosterone. The synergistic effect between L-arginine, L-theanine, L-citrulline and caffeine, results in a much smaller serving size required to achieve outstanding results. For women, the blend is shown to improve spontaneous response to sexual arousal—where men are shown to experience more confidence and frequency in their sexual activity, due to the vasodilater benefits (increased blood flow). 
X
Boron Citrate
Boron is a natural element that's found in mineral deposits in the earth. Boron plays a key role in increasing the natural production of testosterone and estradiol, a type of estrogen, two key hormones that improve libido. 
X
Ocean Mineral Blend
A unique blend that provides all 102 minerals the human body needs. Infused with Sea Moss, Bladderwrack & Burdock Root Extracts.  Our Ocean Mineral Blend is 100% wildcrafted and sustainably sourced.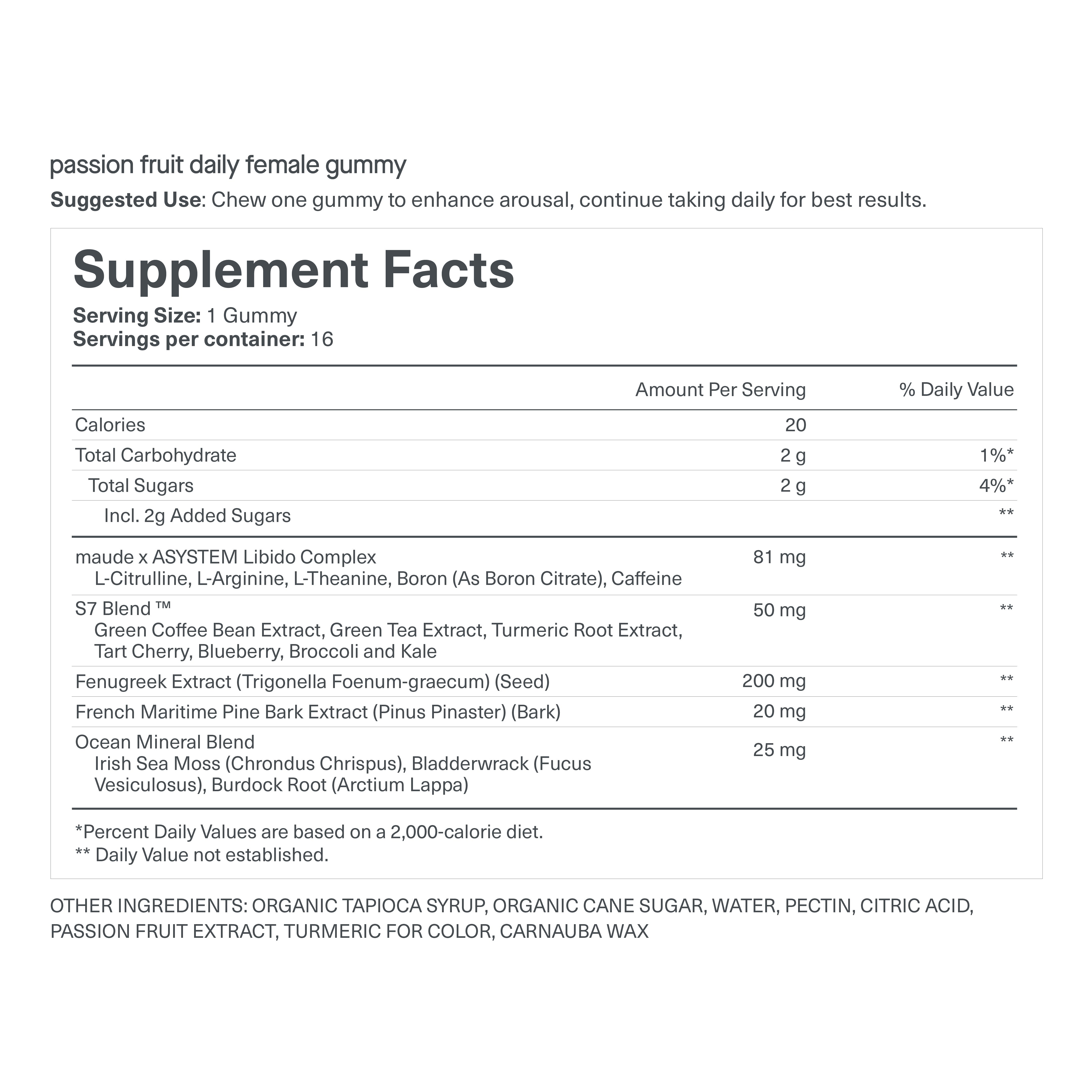 THIS WORKED FOR ME. For a while now I have been struggling to get aroused, this product has made an appreciable difference in my life and in my marriage.
These little gummies really..really..REALLY work. In my case I got undeniable physical effects after about a week. I know the site says 1 to 2 months..but I now have a more active and healthy sex life thanks to these.
Writing this review as a husband who purchased Libido for his wife. ..if you love each other, want to enjoy each other, give it a shot, could be a life changer!
My sexual desire over the last couple of years has seriously dropped. I knew it wasn't my partner and I've tried other natural supplements (Steel Libido, etc.) with no results. Two weeks after starting Libido gummies I started to have thoughts about sex. Three weeks in and we have had sex twice in a week...in one week!! That's huge for me.
No more pain or dryness and I actually have a libido again! I can not take hormones so ASYSTEM LIbido gummies have been an amazing find! I highly recommend
I started ASYSTEM Libido gummies and experienced more arousal and more intense orgasms. I stopped for a bit and found my orgasms were much less intense. After starting again I am back to better orgasms and am much more satisfied.
Us vs. Them
PROVEN TO WORK
CLINCIALLY BACKED
HORMONE FREE
TASTES DELICIOUS
CLIMATE POSITIVE
LOW SUGAR
PLANT BASED
TRAVEL FRIENDLY
Other Brands

Other Brands
PROVEN TO WORK
CLINCIALLY BACKED
HORMONE FREE
TASTES DELICIOUS
CLIMATE POSITIVE
LOW SUGAR
PLANT BASED
TRAVEL FRIENDLY
Female Libido Gummies
Helps With
DESIRE
Stimulation
Hormone balance
WELL BEING
Read More About Ingredients
4.96/5 Stars (1527+ Reviews)
A month pack of our advanced libido gummies that mixes powerful adaptogens and proven clinical ingredients keep your body functioning at it's peak
Award-winning, Patented Ingredients
Proven Clinical Results
Boost NO2 by 230%
Delicious Passion Fruit Flavor
Guaranteed to Sell Out
$45 $40 + FREE SHIPPING